We teach Property & Business owners How to Diversify and Create Lasting Wealth & Income in the Markets
ETFs, Funds, Options
For lower Taxes, Fees and Hassle
Beat Inflation. Slash Your Fees & Taxes. Passively Compound. Invest Like a Pro …
Create Your Pro-Grade Passive Compounding Machine in 6 Weeks
Investor Circle Membership
Live Investment Support and Mastermind
Core Investment Foundations – Start Anytime
Comments from previous attendees
"A great course which will save me a lot of money in fund manager fees going forward. I really like Manish's presentation style, no shouty rah rah sales stuff. Very clear, concise and has de-mystified the whole process of getting exposed to the stock market with low fees. This will give me the confidence to manage my own investments – just what I was hoping to get from the course."
Andrew Perry
"A thoroughly enjoyable and educational course. I've learnt a massive amount since session one and now have the basics of a sound investment strategy."
Tim Riley
"I really enjoyed the 8 weeks, thank you so much Manish. I had only ever invested in single company shares where I worked (GSK), so I learnt a lot on the programme."
Caroline Borg
"An excellent and very worthwhile course which I am glad I participated in"
Nick Bailey
"I really enjoyed the Options module which offers another source of diversification"
George Darmanin
Pro-Grade intel – Simple Implementation
To provide you with pro-grade knowledge and tools for a lifetime of diversified, low-cost investing to maximise your compounded wealth
I believe that anyone can Invest Like a Pro. With the right set-up and tools you can manage your own investment portfolio with better performance, more cost-effectively and with simplicity.
The Investment Academy was created by Manish Kataria.
Manish is a Fund Manager. A CFA-qualified professional with more than two decades of experience in professional investment management and UK property. He has managed investment portfolios for JPMorgan and other blue chip investment houses. Asset classes managed include Equities, ETFs, Funds and Options. Within property, he invests in and owns a range of assets including HMOs, BTLs and serviced accommodation.
InvestLikeAPro was created as the home of passive investing – covering Financial Markets, Options and Secured Property Loans.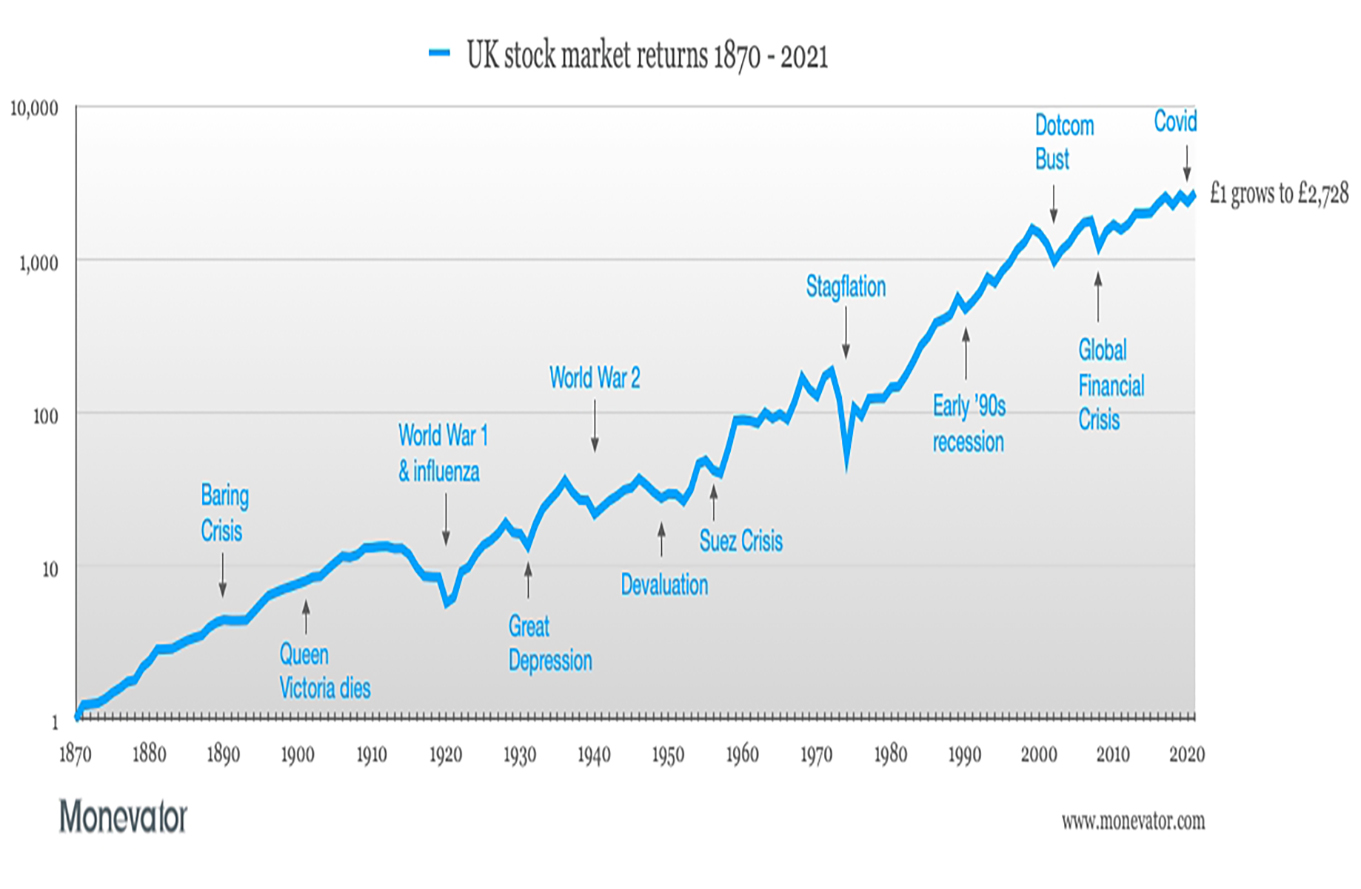 This chart shows all that matters.
Everything else which is just short-term noise. Ignore the headlines, social media and so-called gurus and pundits.
The chart shows total returns of UK stocks (inflation-adjusted) over 150 years of huge events including crises, wars, inflation, rate rises and recessions.